Piktori i shquar Guri Madhi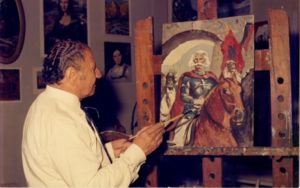 Guri Madhi lindi në qytetin e Korçës më 15 maj 1921. Pas përfundit të studimeve në Leningrad, emërohet si inspektor i arteve në Ministrinë e Kulturës dhe më pas emërohet pedagog në liceun artistik "Jordan Misja ". Në vitin 1961 emërohet pedagog në Institutin e Lartë të Arteve në Tirane, pas së ciles bëri edhe mjaft lëvizje të tjera. Në vitin 1988 vdes në Budapest.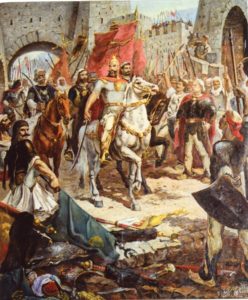 Guri (Petraq) Madhi was born in Korça city (Albania) on May 15, 1921.
He finished studies in "Ilia Riepin" Institute (Academy of Fine Arts) in Saint Petersburg (Russia) during period of years 1951-1956, with excellent results. Guri Madhi is one of the founders of the Albanian Academy of Fine Arts in 1960. He died in Budapest-Hungary on June 1988.
For his activity in painting, in 1972 Guri Madhi is honoured by the President of Albania with the Order "Naim Frasheri"-first class. In 1976, Guri Madhi was evalutated by the President of Albania with the tittle "People's Artist ". In 1989, in his honour, the Art Gallery of Korça-Albania is called "Guri Madhi".
In 2009, his name is chosen by people of Pogradec through 100 personalities of the Europe, put in Boulevard "100 steps toward Europe" in Pogradec-Albania in 2010-one street in Tirana-Albania is called "Guri Madhi".